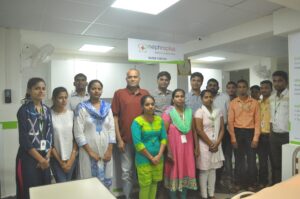 MARGAO, GOA:
Holiday Dialysis by NephroPlus is all set to boost health tourism in Goa a big way. Now dialysis patients can look forward to their dream holiday destination Goa with NephroPlus offering different travel packages. It is customized as per the guest needs. The duration and place of holiday has to be submitted and Holiday dialysis launched by NephroPlus will ensure the patient of a worry-free holiday.
People on dialysis can and will be able to travel and experience the joys of a relaxing holiday in Goa with the professional and world-class quality of NephroPlus; a single point of contact for all arrangements from flight / train tickets, hotel bookings, cab bookings and dialysis. All one needs to do is to decide the dates and Holiday Dialysis by NephroPlus will do the rest.
Dialysis involves filtering impurities from the blood when a patient's faltering kidneys can no longer do so. Originally a temporary stopgap for those awaiting transplants, it has become the standard treatment for advanced kidney failure. Fewer than 10 per cent of patients opt for peritoneal dialysis, which can be done at home. Most undergo hemodialysis at a center where machines clean the blood and correct chemical imbalances.
Typically, dialysis patients are wary of travel. Apart from the hassles and effort associated with figuring out logistics such as travel and stay, they also need to worry about where they will get their dialysis sessions done. With the increasing incidence of cross infections with viruses such as Hepatitis C, B and HIV, dialysis patients are worried whether a dialysis centre at the holiday destination would offer good quality dialysis or not? Would they be risking their life by going on a holiday?
NephroPlus addressed both these concerns of those on dialysis by their Holiday Dialysis program. The NephroPlus team takes care of the entire logistics and the patients do not need to undertake any onerous activities such as flight/train tickets booking, hotel bookings and cab bookings. Further, dialysis is arranged at NephroPlus's high quality and protocol-oriented dialysis centres where the patient can get a dialysis session without having to worry about cross infections or low quality dialysis.
By utilising this program, dialysis patients can experience a hassle-free and enjoyable holiday at various destination including Goa.
Holiday Dialysis by NephroPlus is now available in Goa, Alleppey, Tirupathi, Varanasi, Amritsar, Dehradun, Agra and major states in India.
Speaking about the Holiday Dialysis program, Kamal D. Shah, Co-Founder and Director, Patient Services of NephroPlus and a dialysis patient from the last 20 years himself, said, "We strongly believe that people on dialysis should lead a normal life which includes the opportunity to travel and enjoy a vacation from time to time. Dialysis should not hinder anyone from doing anything that wants to do. I am on dialysis myself and here in Goa for a holiday with my college friends. I would like everyone on dialysis to be able to do this. That is why we started the Holiday Dialysis program where they can enjoy a holiday without the hassles of booking flights, hotels etc. and worrying about the quality of dialysis at the holiday destination. By setting up a dialysis centre in Goa, we now offer those on dialysis the freedom to enjoy the beaches of Goa and get good quality dialysis here. We hope more and more patients would avail this great opportunity."
NephroPlus is India's largest dialysis center network. Each NephroPlus center is a one stop shop for all of a dialysis patient's needs. With a strong commitment to quality, NephroPlus is spearheading a change in the way dialysis is done in India.
One of the main goals at NephroPlus is to enable dialysis patients to lead lives as close to normal as possible.
NephroPlus is India's largest Dialysis Provider Network offering highest quality dialysis services. With a strong commitment to quality, it is spearheading a change in the way in which dialysis is done in India and beyond. NephroPlus has 128 centers currently in 82 cities across 18 states in India and is expanding soon to many other geographies. The vision of the company is to enable people on dialysis across the world lead long, happy and productive lives. It recently conducted the Indian Dialysis Olympiad, India's first ever sporting event for people on dialysis along with a unique dialysis patient bike expedition, correcting the false perception among the public-at-large that those on dialysis can only lead sedentary lives.